TAKUMI AMBASSADORS
TOM KERRIDGE & CHRIS MACKETT
Born and raised in the West Country, Tom Kerridge has always stayed true to his culinary roots – even with the only 2-Michelin-star gastropub in the UK and a host of TV appearances under his belt. We spoke to Tom and Chris Mackett, the Development Chef at the Hand and Flowers, about the parallels between Takumi and their lives in the kitchen.
TAKUMI AMBASSADORS
INTERVIEW WITH TOM KERRIDGE
"The deeper human understanding comes from training and experience."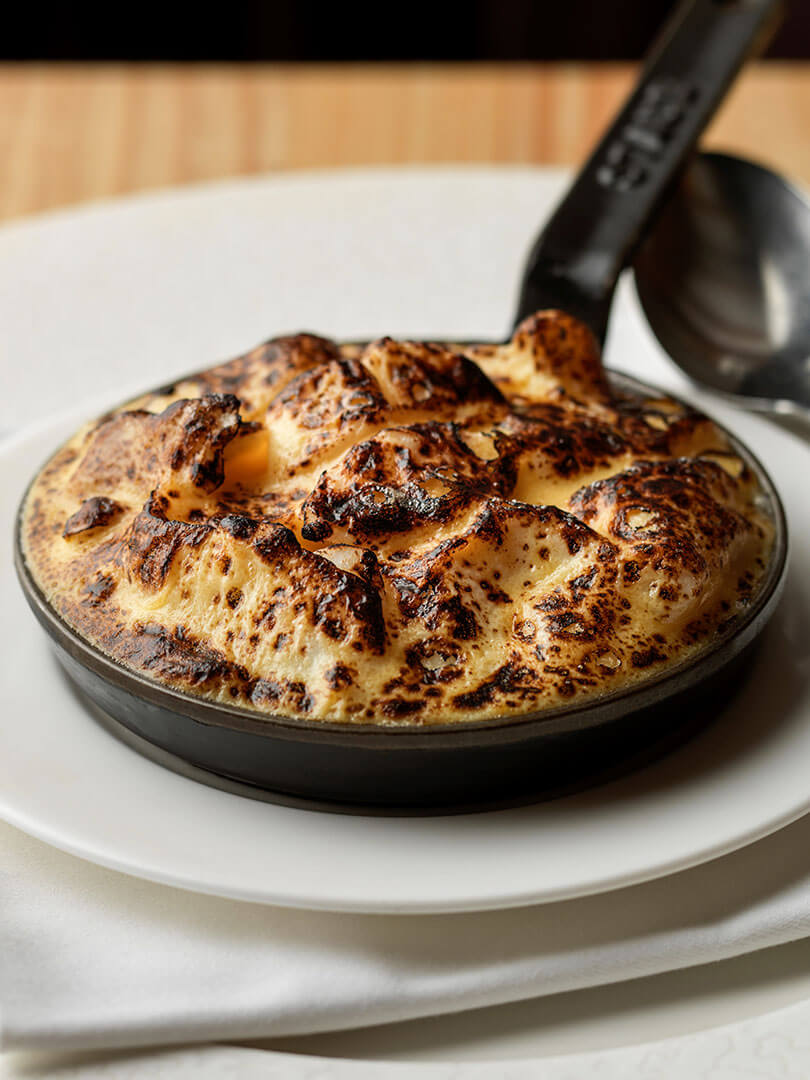 TAKUMI AMBASSADORS
HAND AND FLOWERS SMOKED HADDOCK OMELETTE
This is our play on the classic 'Omelette Arnold Bennett' and, although you might not have seen anything like this before, it's full of familiar flavours. It's one of the beautiful, rich starters we serve at 'The Hand and Flowers', showcasing great British ingredients.
Q&A WITH TOM KERRIDGE & CHRIS MACKETT
1. How do you keep a high standard of focus and brilliance within your kitchen(s)?
TOM: The systemised process is very important in the way that we've moved forward.

CHRIS: There have been some dishes that we kind of go, 'wow that's great', straight off the bat. But actually, on other occasions, there are other dishes that will take six months – that are re-tweaked and re-tweaked… When the customer gets the dish, it has to have that level of satisfaction, level of perfection.
Q&A WITH TOM KERRIDGE & CHRIS MACKETT
2. What was the hardest part of your training – which technique was hardest to master?
TOM: More difficult ones for me have always been the technicality of precise measurement, things that are not always about feel… A Jedi-like ability in a kitchen is amazing, but a lot of pastry work is about a science and understanding.
Q&A WITH TOM KERRIDGE & CHRIS MACKETT
3. What is your understanding of Takumi and Takumi mastery?
TOM: It is very similar to what the Hand and Flowers has been built on. There are dishes at the Hand and Flowers that are 15 years old, that have been honed and crafted again and again.

CHRIS: The little tweaks made while building a dish at The Hand and Flowers make it different to other spaces. The level of learning to get there, the level of craftsmanship and level of artisan craft in dishes developed over 15 years.
Q&A WITH TOM KERRIDGE & CHRIS MACKETT
4. Do you have any advice for people cooking at home, especially for novice home-cooks?
CHRIS: When we go around the supermarkets and see unavailable foods, it makes us think differently. I look around the supermarket and see what no one else is buying… The other day you picked up a tin of SPAM. When was the last time you picked up a tin of SPAM?

TOM: It was lush, I'm bang into SPAM again now, all over. I'll tell you what, when the Hand & Flowers reopens again, we're having SPAM fritters!
Q&A WITH TOM KERRIDGE & CHRIS MACKETT
5. What elements of your Lexus embody Takumi most for you?
TOM: It's a brand that links very nicely with us because it's accessible, but it's also top end. It's beautifully crafted and feels very comfortable. Also, when the guests get in the car, to go between their room and the pub, we're proud that they are getting in it. They feel comfortable and that they're in safe hands, and that's really, really important.

CHRIS: From the stitch work all the way through. I mean, just the detail on the steering wheel, the feel of the cars is lovely from that point of view. So it does feel like it's a special, you know, special and car to get into and enjoy.

TOM: I also think Lexus are forward thinking in terms of technology. Hybrid is important to us as we feel we are a part of something that will long-term hopefully help the environment.
"THE DEEPER HUMAN UNDERSTANDING COMES FROM TRAINING AND EXPERIENCE."

Tom Kerridge, Takumi Ambassador